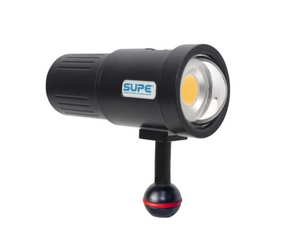 SUPE 

Scubalamp V3Kv2

 

Moive grade COB LED

 Photo/Video Light - 5,000 lumens

 
With 18mm movie grade COB LED, V3Kv2 is a professional underwater video light. 5000lumens for wide angle 120 degree.
The V3Kv2 is a compact powerhouse at 135mm*46mm,Perfect match with compact camera, Gopro and phone underwater video. Also good as a photography focus light.

Mode: On->100%(5000lumens at 50mins) ->75%->50%->Off.  
Stepless Dimming(long pressing)
Working Voltage: 11.1V
Compatible Battery: 3*18650 battery pack  
Depth Rating at 100M
Beam angel: wide angle at 120 degree.
Color Temperature: 5600K  
Color Rendering Index(CRI): 96   
Red 9(R9):94  
Television lighting Consistency Index(TLCI):97
Colour : Black/Silver
Patented side switch for non-visual, one-handed torch operation.
Power indicator at button switch:  Green(power>70%)-> yellow (>30%)->Red (<30%)
High grade Aviation Aluminium Alloy with Military Oxidation III grade casing for hardiness and anti corrosive in Sea water
 Internal circulation conduction to reduce corrosion of the body.
Dimension : Length 135mm x 46mm x 56mm(head)
Weight : 490g(on land)