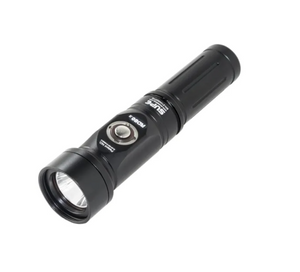 SUPE Scubalamp RD80v2 LED Recreational Diving Torch - 1500 lumens
This latest version of the RD80 has 1500 lumens - extra bright and more buring time.
The RD80v2 has been tested to 100m and this great light uses 21700 Li-Ion battery (included), Burning time is up to 3.5hours. One time charging, one day diving.
Charged by Type C cable, micro USB straight into the battery, easy and environmental friendly travel.

Specifications
Mode: ON->High(1500lumens at 3.5hours)->Low(750lumens at 7hours)->SOS->OFF.
Battery: 1 x Li-Ion 21700 battery, Type C USB straight into the battery.
Working voltage at 2.7-4.5v.
Depth Rating at 100M
Lens: 4mm toughened ultra-clear glass with diamond coating
Beam Angle: 15°
Patented side switch for non-visual, one-handed torch operation.
Power indicator at button switch:Green(power>70%)-> yellow (>30%)->Red (<30%)
High grade Aviation Aluminium Alloy with Military Oxidation III grade casing
for hardiness and anti corrosive in Sea water
Internal circulation conduction to reduce corrosion of the body.
Dimensions: 150mm (Length) x 26mm (Body) x 36mm (Head)
Net weight: 200g
Color options: Black, Blue, Pink