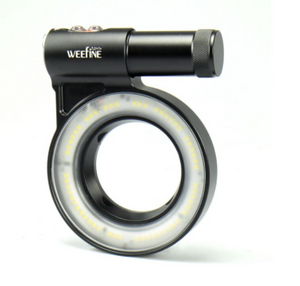 The Weefine ring light 3000 is best suited for super-macro, or subjects where the working distance makes it difficult to pull your external strobes or lights close enough for even lighting. The ring light improves these images and videos by producing an even lighting and softens the highlights.
The ring light gives you 1800 lumens (continuesly) with 4 different power levels (100%, 75%, 50% and 25%) and 3000 lumens in flash/strobe mode (an optional optical cable is required for the flash mode).
The ring light can be easily mounted on any 67mm port or adapter. The burn time is around 45 minutes at the highest power level. The power comes from one 26650 battery. it's already supplied in the package and it comes with a small and easy to use charger.
Specifications
The Ring Light is compatible with the lenes with M67 screw thread.
Brightness: Continuous light max 1800 lumens /
 Strobe light max 3000 lumens
Depth Rating: 100m / 330ft.
Beam Angle: 100 degree on land / 90 under water.
Color Temperature: 5000 ~ 5500K. 
Power Level: 100% / 75% / 50% / 25%.
Button: Dual push button with battery level meter
Burn Time: Continuous light mode approx. 45 minutes
Strobe light mode approx. 12 hours
Batter y: 1 * 26650 Lithium Battery
Charge Time: Approx. 4 hours from zero (5V/2A)
Dimensions: 123.8 * 159.6 * 40.6mm & M67